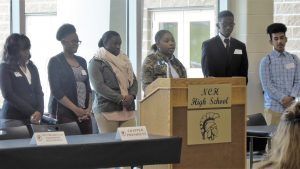 We are so proud of our Work Readiness students in CYC's Jobs for Cincinnati Graduates (JCG) program. On November 4, they wrapped up a successful Leadership Development Conference (LDC) at North College Hill High School.
The Annual LDC, now in its 36th year, brings together all the newly elected city-wide officers for the Cincinnati Career Association (CCA) to strategize and develop activities for their respective schools. 
This student-run component of JCG has five goals: Leadership Development, Career Preparation, Civic Awareness, Social Awareness, and Community/Service Learning. There is a plan of work developed for each of the five goals. This cohort of students drive city-wide CCA goals and activities across all programs. Over 60 students from our nine partner schools participated in LDC workshops.
The following city-wide officers were also elected during the LDC:
Jada Carter – President – Woodward Career Technical High School
Tylisha Hunter – VP Communication/Historian – Western Hills University High School
Tatiana Brown – VP Treasurer – Winton Woods High School
Kelijha Williams – VP Leadership Development – Woodward Career Technical High School  
Elijah McNeal – VP Civic/Community Affairs – Western Hills University High School
Jaylen Thompson – VP Career Preparation – Winton Woods High School
Joanna Wills – VP Community/Service Learning – Western Hills University High School
Riah Smith – VP Group/Social Recreation – Aiken New Technical High School