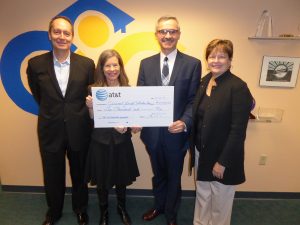 November was a very exciting month for CYC! Thanks to the generosity of the AT&T Foundation, CYC is the recipient of a $10,000 grant for our Work Readiness program, Jobs for Cincinnati Graduates. AT&T Director of External Affairs, Mark Romito, and Commissioner Denise Driehaus, were on site at CYC's offices to celebrate this special moment.
"This grant to CYC will be transformative for our youth and communities," said Commissioner Denise Driehaus. "With this funding, more students will receive the skills and training they need to ensure they are well prepared, either in the workforce or in college, to be successful."
We are incredibly grateful for the ongoing generosity of the Foundation, and we thank Mr. Romito and Commissioner Driehaus for championing CYC's mission to empower vulnerable children and young adults to overcome obstacles and succeed in education, career, and life.