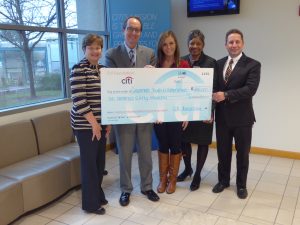 November 1 was a big day for Cincinnati Youth Collaborative! CYC was honored to be selected by the Citi Foundation as a 2017 Youth Workforce Fund Community Partner.
With this honor comes a $250,000 grant to support CYC's Work Readiness/Jobs for Cincinnati Graduates programming, which provides high school students with core employment skills, enrichment experiences, community service activities, and access to 8-week paid internships. We are so grateful to the Foundation for their generosity. This is the largest corporate grant that CYC has been awarded since its inception, and will make a tremendous impact for so many Cincinnati youth.
We also thank our very own Patrick Russell, the vice president-recovery manager at Citi in Florence, KY, for sharing his CYC story and how his CYC mentor, Harry Blanton, changed his life.