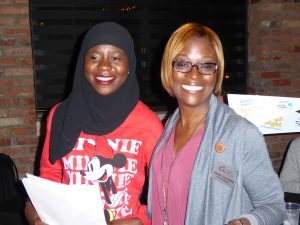 Mentors make an incredible difference in the lives of deserving students, and without people like you we could not fulfill our mission to empower vulnerable children and young adults to overcome obstacles and succeed in education, career, and life. Mentors come from all walks of life, and bring their vast knowledge, experience, heart, and compassion to enrich the life of a vulnerable child or young adult.
Sometimes, CYC staff become mentors too, and CYC's Volunteer Manager, Audrey Holtzman, is one of our staff members who has taken her role to the next level. Audrey's heart knows no limits when it comes to supporting CYC's youth, and her experience as an immigrant from Liberia prompted her to become a college mentor to Liberian refugee and CYC College and Career Success graduate, Yaye Keita. On February 22, both women spoke on the power of mentoring at CYC's Trivia Night, and they shared how much their relationship has impacted the other.
Speaking to a crowd of 250 people, many of whom are CYC mentors, Yaye's story of overcoming adversity with the support of her mentor melted hearts and received
 a standing ovation. Audrey has clearly made an incredible impact on this young woman's life. Yaye shared, 
"Audrey has been on this crazy journey with me since day one of college. She is my mentor, my hero, my strength, and my role model. I can't thank her enough."
Audrey affirmed the rewards of mentoring. She shared, "It has been a rewarding journey helping Yaye navigate the college scene answering questions such as 'how and where do I get help for algebra?' Yaye is now half way through her second semester at UC Blue Ash and we're looking forward to celebrating her completion of her first year of college in May."
Each CYC mentor is indeed a hero, and we invite you to send us your stories, and updates on the 
triumphs
 of your mentee. We would love to feature them in an upcoming Mentor Minute and/or CYC blog post. Thank you for all that you do for your mentee. You make the world a better place.