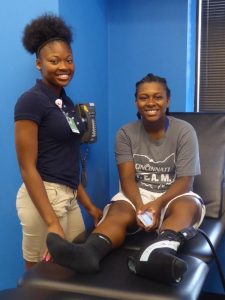 CYC's Jobs for Cincinnati Graduates program just finished its 8-week Summer Work Experience Opportunity Program (SWEO). The SWEO is a program founded by Jobs for Cincinnati Graduates and was created to provide work readiness to students by setting them up with internships in fields they are interested in pursuing after high school. Jobs for Cincinnati Graduates was able to make the SWEO program available thanks to generous funding from the Workforce Innovation and Opportunity Act.
The internships take place at various locations such as Cincinnati Children's Hospital Medical Center, Art Beyond Boundaries, Cincinnati Police Department, J.C. Battle & Sons Funeral Home, and many other great companies across the city. During the students' time at their internships they have been tasked with an array of assignments. Many of the assignments were tasks such as cleaning, answering phones, and researching specified topics. The bigger assignments ranged from auto care to sports medicine.
Jamar Sanders, a student in the SWEO program, said his duties while at Greater Cincinnati Microenterprise Initiative were to "solve problems and brainstorm solutions for other businesses." One student, Austin Fahey, was even offered overtime pay by his internship site because of how well he was accomplishing his work. The students have appreciated and cherished their experiences at their respected internship sites. The experience each student had over the summer provided them with clarity to either staying in the career field they're pursuing now or pursuing another career. Tracy, a student who interned at SILO, says, "Working with kids with disabilities has shown me to have more patience. My work at SILO has made me want to volunteer for organizations that work with kids with disabilities in the future."
The students who participated in the SWEO program this summer deserve the utmost praise for their hard work, resilience, and passion to succeed. Jobs for Cincinnati Graduates Program Manager, Judith Moore Tucker, says this year's SWEO program was, "Outstanding, from start to finish! Project exceeded all goals; comments received from sites were exceptional. One of our main goals was to ensure an in-depth understanding and view of each students' specific career interest, and all supporting staff. This goal also included a focus on transferable skills relative to Plan A – Plan B, College & Career Goal Setting. SWEO 2017 was exceptional, better than the previous year…. which is also one of our annual goals." We thank all companies who provided these students with work readiness experience and the tools needed to make their dreams possible. All of us at CYC are very proud of these students' accomplishments and wish them continued success in college and career!