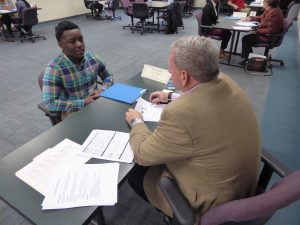 Taft High School s
tudents in Rhonda Summerlin's CYC Work Readiness course, have been crafting resumes, cover letters, performing job searches, filling out applications, and participating in mock interviews to sharpen their skills. We were delighted to have them on-site today for mock interviews with CYC staff and board members.
CYC is committed to ensuring our youth have essential life skills to be competitive in today's global market, and mock interviews are a great way for our youth to learn from caring adult role models with years of experience in the workforce.
CYC staff and board members demonstrated professionalism and workplace etiquette to our youth during the interview process. Students were given a fictional company and job description, and were asked to complete an application, and answer interview questions. CYC staff and board members used a rating sheet to evaluate students and give feedback. At the end they rated themselves and wrote thank you notes to their interviewer.

Ms. Summerlin shares, "My goal for this project was to not only equip the students with interviewing skills, but put them in a real life situation to where they would have to apply the skills they've learned in the classroom. It is definitely a teachable moment for them! I've done my job if the student has found the lesson in that teachable moment."

CYC student and leader, Precious Kimbrough, felt positive about her experience and empowered for interviews with potential employers. She says, 
"When I first came in I was nervous. Mr. Molina told me that I didn't need to be so anxious, and I ended up having a wonderful experience. Mr. Molina gave me encouraging and helpful feedback, and said I could be very successful. I'm very thankful for this opportunity."
Special Thanks to our Interviewers:
Maurice Huey, CYC Chief Operations Officer
Dave Plogmann, CYC Chief Development, Marketing and Strategy Officer
Tracy Stokes, CYC College and Career Success Manager
Daniel Molina, CYC Board Member, Chief Executive Officer and President – CenterGrid
Barb Szucsik, CYC Board Member, Executive Counsel – Convergys
Tom Marth, CYC Board Member, Regional Vice President – Workday