CYC's mission is to empower students to overcome obstacles and succeed in education and in life. For this reason, we are thrilled to recognize CYC alum Terence Daniels as our June Hero.
Terence Daniels was an average student at Aiken New Tech High School for most of his high school experience. He received passing grades and stayed out of trouble, but he does not remember being filled with college dreams or lofty goals. Perhaps it was the school environment, he speculates.
"The inner-city school kids, they feel like they're shortchanged or behind the wheel just because they're an inner-city school," he remembers. "When I was there, we were kind of down. We were one of the worst academic schools. It makes you think you're not prepared for college."
Thankfully, Terence found CYC's Jobs for Cincinnati Graduates (JCG) program at his school, and his true potential was unleashed. "JCG showed me it's not always about school smarts, it's about drive and ambition."
He admits that it took a while to realize all that JCG was doing for him. He enjoyed being the JCG Class President well enough, but even his Career Specialist, LaStarr Rivers, remembers needing to convince Terence to participate in the program's public speaking competition. The speech guidelines asked that the speaker describe the effect that JCG had on them. LaStarr recalls, "He kept saying, 'I'm not sure what JCG has done for me.' So I told him to think about it, and then he began to realize what it had taught him in terms of JCG's five goals of leadership, and self-development, and more."
Looking back now, Terence doesn't need any more convincing. His speech took first place in city and state competitions, and he credits his JCG experience with the success he found in college.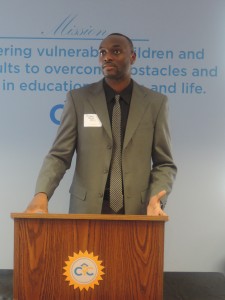 "The accomplishment I achieved in JCG made me feel like I belonged [in college], like I could do it…I got better grades in college than I ever did in high school. My last few semesters I was getting 3.5 and 3.7 – it wowed me!" Those scores would be great for any students, but Terence was concurrently serving in the National Guard part-time to pay for college. During one semester he even took a second job working 40 hours a week on third shift. "I don't remember a lot of the semester," he laughs, "but I wanted to graduate in May so I did it. And I got through it."
That kind of drive is one of the many reasons we recognize Terence as a CYC Hero. He graduated this past May from Northern Kentucky University with a Bachelor's degree in Public Relations, remains active in the National Guard and recently achieved the rank of sergeant, and has been working in IT for the company Vantiv for about one year. In LaStarr's words, "He meets all three criteria that we talk about wanting for our youth: enlistment, enrollment, and employment."
As for what's next, Terence hopes to continue moving up in rank in the military and finding ways to give back to his community. Looking farther down the line, he dreams of starting or working closely with a non-profit. "Politics is something I think about doing," he adds. "I feel like things are messed up, and…to a certain extent, in order to change them you have to be the person in charge. I remember a quote: 'If you don't like something but don't want to do anything about it, you can't be mad.'"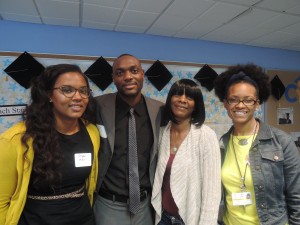 For his ambition, determination, and for overcoming obstacles and succeeding in education, career, and in life, we gladly recognize Terence Daniels as a CYC Hero.  
Don't miss the story of the next CYC Hero! Subscribe below to receive an email notifying you when the next CYC Hero is announced.
[subscribe2]
CYC Heroes is a monthly feature recognizing individuals who go above and beyond expectations to serve the CYC community. Heroes come in many shapes and sizes: mentors, students, ambassadors, employees, donors, volunteers, and board members. Know someone who makes CYC stronger? Submit your CYC Hero nomination to Kate Elliott, at kelliott@cycyouth.org