CYC is able to make a lasting impact in students' lives thanks to the passionate efforts of our volunteers. Not all volunteers are mentors. Some support our special events, which raise funds for CYC's vital programs. Sometimes, we are blessed to have volunteers who do both. Dorothy Blake is one of these volunteers who has supported CYC as both a mentor and through special event planning. we are pleased to recognized her as this month's CYC Hero.
Ten years ago, through her friend and fellow CYC Hero Susan Pfau, Dorothy Blake began mentoring with the CYC Girls Club. These clubs connect fourth and fifth grade girls with a group of caring female adults and offer a safe afterschool space for personal, educational, and professional growth. Dorothy remembers it as being "an easy way to ease into mentoring…I knew if I couldn't make it one week, there would be the group there."
The overall experience was an excellent one for Dorothy. She was amazed by the things she may have taken for granted that were new and exciting to her students. "We took kids to see the river who had never seen the Ohio River before," she recalls. "We took them to a park where they played beach volleyball, and they'd never had their feet in sand like that before."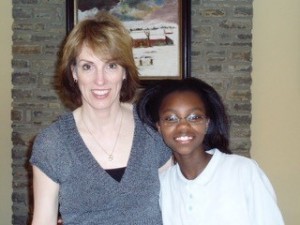 Within Girls Club, Dorothy met the girl who would become her one-to-one mentee. M* was an ambitious girl who made education a priority, even in fourth grade. "If I asked her what her boyfriend's name was, she would say, 'education,'" laughs Dorothy. They remained a team from the summer after M's fourth grade year into her senior year.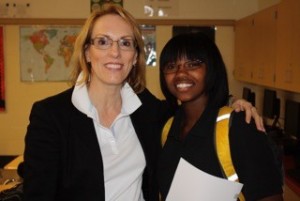 While 95% of CYC's senior students graduate from high school, there are those who do not and unfortunately, M was one of those students. After dropping out of a healthcare training program within her high school, she switched to a virtual school. Then she dropped out of that. Dorothy speculates that M did not realize that by dropping out of the virtual program, she was ultimately dropping out of school for good.
Dorothy is frank but optimistic when discussing the situation. "It was a disappointment for both of us," she says. "You try to make your way. You never know what will happen, and the combination of what we had in our experience…Who knows what the future holds for her." Currently, M is in a stable relationship with steady employment, so Dorothy concludes, "I can only think positive thoughts for her. It was a super relationship. We had fun. I have no regrets."
And though M may not have earned her high school diploma, Dorothy proudly speaks of other tangible skills that M gained through their time together. "She had increased self-esteem, self-confidence. She knows how to negotiate a salary – we did role-playing for that." Dorothy continues, "There were other things I did with M that brought in other interests of mine, like Toastmasters…She wanted to join badly, but you couldn't until you were 18. What we did was tried to start a youth leadership program at her school. We were able to start one at Dater through the CYC contact there."
Meanwhile, Dorothy's involvement with CYC continued as she chaired the Dream Makers Celebration Planning Committee. Long-time board member Chuck Ackerman remembers how Dorothy's "unparalleled enthusiasm as chair…rubbed off on all of the committee. She really fired up the crew at each meeting with her sincere passion and vigor. In doing this, she really got each committee member to realize each of our creative potential."
Dorothy looks back on the experience fondly as well, saying, "It was very satisfying to chair the celebration those three years. To be able to do something that will raise funds to make all the good work happen at CYC is very satisfying."
CYC's President and CEO Jane Keller describes Dorothy as "a shining example of a volunteer who cares with great zest. Whether as a mentor or as the chair of CYC's Dream Maker Celebration, Dorothy concentrated on helping young lives be their best."
Now living in California, Dorothy continues to volunteer by mentoring through her local Toastmasters chapter, helping recent high school graduates hone their presentation skills.
For the many ways in which she contributed to the impact of CYC—group mentoring, one-to-one mentoring, and special events—we gladly recognize Dorothy Blake as a CYC Hero. As Jane Keller says, "[Dorothy] believes in the power of one – it takes each of us to make a difference for all of us."
*student's full name omitted for privacy
Don't miss the story of the next CYC Hero! Subscribe below to receive an email notifying you when the next CYC Hero is announced.
[subscribe2]
CYC Heroes is a monthly feature recognizing individuals who go above and beyond expectations to serve the CYC community. Heroes come in many shapes and sizes: mentors, students, ambassadors, employees, donors, volunteers, and board members. Know someone who makes CYC stronger? Submit your CYC Hero nomination to Kate Elliott, at kelliott@cycyouth.org