Cincinnati Youth Collaborative has received two substantial grants from noted community foundations.
An $80,000 from the Greater Cincinnati Foundation will support ensuring preparedness for post-high school success and a $20,000 grant from The Louis & Louise Nippert Charitable Foundation will support CYC mentoring services. These services all connect at-risk students with positive adult role models who empower the students to overcome obstacles and succeed in school and in life.
Cincinnati faces extreme childhood poverty rates, and the students CYC serves are entrenched in this crisis. They are often from schools with the highest levels of poverty and lowest levels of achievement. They experience one or more risk factors putting them at high risk of dropping out of high school, including low income, a single parent, an incarcerated parent, a history of disciplinary problems, and homelessness.
Once successfully matched with a mentor, however, students frequently exhibit heightened self-esteem, self-awareness, and an increased interest in setting goals for life after high school. With the support of the Greater Cincinnati Foundation and the Louis & Louise Nippert Charitable Foundation, CYC will continue to apply a range of intervention services as early as the second grade, in order to guide students along a pathway to success and create a more vibrant and engaged workforce, and a healthier, prouder community.
The Greater Cincinnati Foundation was established by dedicated donors more than 50 years ago, and strives to be a trusted philanthropic partner. GCF and its donors inspire current and future generations to invest in a more vibrant and prosperous Greater Cincinnati where everyone can thrive. GCF's Governing Board, along with experts from the community, manages funds by investing wisely to ensure the assets are protected and grow over time. www.gcfdn.org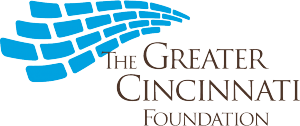 The Louis & Louise Nippert Charitable Foundation makes its mission to continue the Nipperts' long-standing and generous philanthropic efforts to benefit the residents of Southwest Ohio for many generations to come. Established in 1981 in order to provide support for charitable activities deemed worthy of financial assistance by the Trustees, the Foundation remains true to the mission by concentrating its grants on areas that Mr. and Mrs. Nippert have supported in the past, including but not limited to local cultural arts, education, environment and health. www.lnlcharitable.org