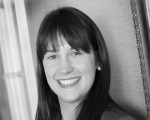 Cincinnati Youth Collaborative's game-changing model is built on the idea of inspiring the business community to invest vulnerable students. CYC is fortunate to have community partners like Truepoint Wealth Counsel who care deeply about our city's youth and support our mission in a number of ways, from event sponsorship to mentoring initiatives. This month's Youth Matters author is Martha Strebinger, a CFA and Investment Specialist with Truepoint. She mentors through the partnership between CYC, Truepoint, and Cincinnati Public School's Silverton Paideia Elementary. This was her first year as a mentor, and she shares her thoughts and feelings about the experience.
When I moved to Cincinnati from Boston, I was anxious to find a way to get involved with the broader community. Fortunately, my employer, Truepoint Wealth Counsel, started a mentoring partnership with Cincinnati Youth Collaborative and Silverton Paideia Elementary. I joined the program last year, with approximately fourteen of my colleagues.
I met J*, my mentee, just one year ago. I remember being very nervous that day—would she like me? Would we be a good match? Would I be able to help her? She was in third grade, and we began our first day by listing our favorite things. We were surprised to see how many we have in common: swimming, music, and Buffalo Wild Wings, to name a few.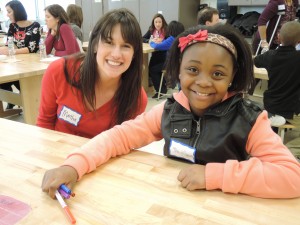 We met weekly over the next few months to help prepare for the third grade reading test. I forgot to worry about whether she liked me and was instead anxious for the big test. If she didn't pass, she wouldn't move on to the next grade!
Summer came quickly, and we had to wait to learn the results of her test. Meanwhile, we were invited to attend an end of the year cookout at a nearby park with other CYC mentors and mentees. As luck would have it, just minutes after arriving the skies opened up and a short but rather violent storm poured down on us. All the kids and adults huddled under the small shelter until the storm passed. After the rain, we had some time to engage in a few activities outdoors—a three legged race (we lost by a mile), an egg race (we did OK), and tug-of-war (let's just say it wasn't our sport). After this initial outing, J and I took many more over the course of the summer break. We went to the movies, we biked around Smale Park, we even went to the Reds FanFest during All-Star week. You might imagine how surprised I was when she was later asked what her favorite activity was: She paused for a few beats and then confidently replied, "The cookout!"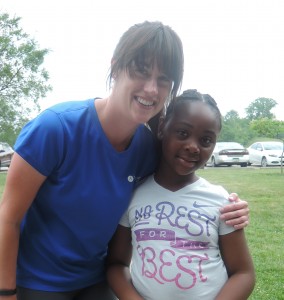 I found out midway through the summer that J did pass her reading test—hurray! Now we're onto the fourth grade, tackling not just reading comprehension but her least favorite subject: math. Her goal is to get her math grade up to an A, and she has been making great progress. I can't wait to see what the rest of the year holds for her.
If you were to ask me what my favorite part about mentoring is so far, I'd have to say "everything."  
* student name omitted for privacy.
Never miss a new CYC story! Subscribe below to receive an email notification when a new post is added to the CYC Blog.
[subscribe2]
Have a story to share? Contact Kate Elliott to discuss contributing to the CYC blog: kelliott@cycyouth.org | 513.363.5251