January 2015
Author Rhonda Post is a first-time mentor through the collaboration between Cincinnati Youth Collaborative (CYC), Fidelity, and the Boys and Girls Club of Greater Cincinnati (BGCGC). 
A member of my book club works at Cincinnati Youth Collaborative (CYC) and I am always so impressed with her passion. My youngest child is away at college, so I am an empty-nester. And so, although my work at Fidelity keeps me busy, when I saw the request for Fidelity employees to mentor students through a CYC program, I figured I could make time to connect with a student through e-mails. It sounded easy—I can do this!
After training with CYC staff, I learned that the weekly e-mails would be supplemented with student visits to the Fidelity campus, and that I would be encouraged to make monthly visits to the Boys & Girls Club of Greater Cincinnati (BGCGC), where my mentee attends after school. Still, I thought, I can definitely do this!
I arrived early at the first meeting in September. I found my folder and read the application of my new mentee, J*, with great anticipation. I learned that she dislikes reading, does not want to wear a uniform at school, and that if she could change anything about herself it would be her hair because it is short. Well, I was searching for a young girl with short hair when a girl with braids down to her waist approached my table. When she said her name was J, I realized she was my new mentee. I told her I was surprised because I was looking for someone with short hair. She shrugged her shoulders and told me her hair was short. I knew right then, I had met my match.
When we sat down together, she told me about her dog named Coco. I asked what she had for lunch and she told me Chipotle. Now, I haven't been in elementary school for several years, but that still seemed unique so I asked a few more questions. How does she get Chipotle for school lunch? Her mom brings it. How often? Twice a week. Interesting! I asked which day she wanted to receive the weekly e-mail from me. She picked Wednesday, so I entered a reminder in my planner to send J a message every Wednesday morning.
My first e-mail received only a brief note back, and I did not hear much more for a few weeks. I decided to visit BGCGC one day in October, but when I arrived and announced who I was there to see, there was an issue. J had been suspended from the program for three weeks. I was deflated. Thankfully, J's mother was there picking up her younger daughter, so I was able to introduce myself to her. We sat down to discuss the situation and she described her daughter as a nice girl with a vivid imagination. It was during our discussion that I learned the family does not have a dog and her mother has never brought J lunch from Chipotle. This mentoring thing was turning out to be more complicated than I had expected. I assured J's mother that I would continue to e-mail her daughter despite the suspension. But I was beginning to wonder: Can I do this?
The next several months were a dichotomy—little to no communication through email, but effervescent enthusiasm when we met in person. I learned that J had received several detentions in school, and that her grades in school were suffering badly because of missed work. I made sure to work on homework with her and encourage her to improve her reading. I shared one of my favorite books from my childhood and we took turns reading out loud and talking about what was happneing in the story. We also created a plan to encourage positive behavior: If she does not receive any additional detentions during the remaining calendar year, I will get her a gift card. J requested a Chipotle gift card.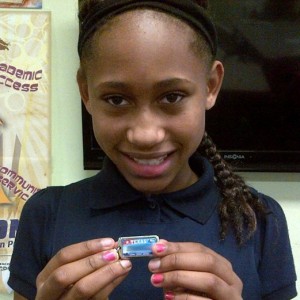 I made sure to continue emailing her, even when I went on business trips, but her lack of response made me question whether or not she was reading them at all. I brought back a key chain with J's name on the front and Texas on the back, so she would know that I had been thinking of her. When I gave the keychain to her during our December meeting, she was thrilled to show it to others. By now we were good friends, and she invited me to her school's Christmas pageant. I attended with my son, and when he met J he assured her that I would always be checking on her grades – he knows this firsthand. I have met J's sisters and I communicate with her mother occasionally, which is helpful in getting to the truth of some of J's tall tales. J still struggles with her reading, but I am seeing improvement.
This is my first time as a mentor to a student and I am quickly learning it is not as easy as I first thought it would be. But I am also realizing that I am getting a lot more out of this relationship than I ever dreamed. Watching her complete a homework assignment or sounding out a word she doesn't know fills me with pride. I look forward to every visit and wish nothing but the best for her. I am especially excited that I might be able to give her that Chipotle gift card after the New Year. I am learning to appreciate every victory, large and small, and I am realizing the profound effect that my actions can have. I am making a difference, and that makes all the difference to me. I can definitely do this.
EDITOR'S NOTE: Just before publishing, Rhonda sent us an update. She received an email from J's teacher confirming that J had not received any detentions through the end of Decemebr – she earned her Chipotle gift card! Congratulations, Rhonda and J! 
*student's full name omitted for privacy

Never miss a new CYC story! Subscribe below to receive an email notification when a new blog is posted.
[subscribe2]
Have a story to share? Contact Kate Elliott to discuss contributing to the CYC blog: kelliott@cycyouth.org | 513.363.5251