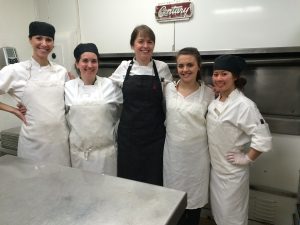 Courtney Younger, a recent graduate of Oyler High School and the Cincinnati Youth Collaborative (CYC) Work Readiness program, Jobs for Cincinnati Graduates (JCG), is seeing her dreams come true!
With new policies and funding from the Workforce Investment Opportunity Act (WIOA) and the Southwest Ohio Region Workforce Investment Board (SWORWIB), Courtney was able to participate in an expanded JCG Job Shadow Program at Oyler her senior year of high school.
The additional WIOA funding for the 2015-2016 school year made it possible for Courtney to pursue the opportunity of a lifetime — job shadowing Executive Pastry Chef, Megan Ketover, at Cincinnati's premier restaurant, Orchids at Palm Court.
This is the first time WIOA has provided funding to support student internship wages, and Courtney's JCG Career Specialist, Kelly Thomas, says being "paid increased 'real world' experience and career exposure" for Courtney, and that she "was able to see the first-hand daily operation and behind the scenes action that goes into a five-star establishment."
Ms. Thomas describes Courtney as being "a very dynamic and focused young lady," and explains that these traits served her well in "successfully connecting with and being offered the internship by Ms. Ketover." She adds, Courtney obtained invaluable career experience and field knowledge that would be otherwise "impossible to learn in the classroom."
Ms. Ketover was so impressed with Courtney and her performance during the internship that she asked Courtney to consider applying for a full-time paid position following her 18th birthday.
Courtney officially joined the Orchids team on July 12, the day after her birthday. She has benefits, a competitive salary, and says that she enjoys going to work because she is doing something she sincerely loves. She plans to work for a year and then enroll into a culinary arts program.
Reflecting on the opportunity, Courtney says, "this experience has definitely helped me with my future. I'm right where I'm supposed to be."