If one asks Dr. John Bryant, the 80-year-old will tease how he has had "a checkered career" in education. But it's not one of questionable quality. It's one marked by various shifts.
From 1960 to 1968, Bryant was a teacher and head basketball coach at Withrow High School while working on his doctorate at the University of Cincinnati. After completing his dissertation in 1971, he joined the faculty at Wilmington College, becoming the head of the teacher education program.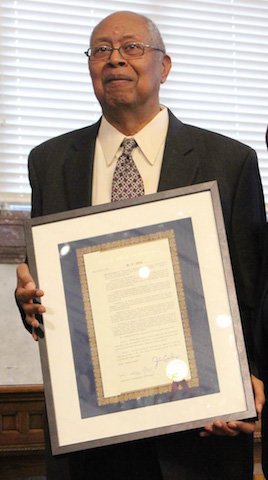 "I essentially taught 30 students six times a day [at Withrow], so I had an impact on 180 students. When I went to Wilmington College, and I'm teaching 30 students who are going to go out and teach their 180 students, I was expanding the kind of impact one can have," said Bryant.
He expanded his impact further by taking a two-year sabbatical from Wilmington College in 1991 to join the Cincinnati Youth Collaborative as executive director where, at the end of that period, "we would have solved all the problems."
But the problems were not easy to solve — not with CYC's vision of insuring that all children would graduate from high school with the resources necessary to be an informed and successful citizen.
"You are going to be a citizen, so therefore you need to be able to participate and help to shape essentially the future of the country. We added to it — to our vision — we added to it that finances would not be the barrier that kept you from obtaining that, so therefore we need to have some kind of financial aid assistance."
That was the beginning of CYC's Educational Talent Search program.
The other major initiative — the cornerstone of CYC, according to Bryant — was the development of the mentoring program, where a caring adult is matched to a child to be a complement and supplement to the parents.
"This [the mentoring program] is not something that is to be a dependency kind of thing, but the same thing is true of your children. You want them to be able to paddle their own canoe a bit," said Bryant.
Much like one's own children, the connection between mentor and mentee remains after the mentee graduates from high school. Some have been with their mentors since their teens and are now in their 40's with children of their own.
Dr. Bryant also assisted with the creation of two organizations associated with CYC: the Mayerson Academy and ArtWorks.
"The idea for the creation of the Mayerson Academy was fully right in the middle of the CYC."
Modeled after the Gheens Academy in Louisville, the Mayerson Academy opened its doors in 1992, and has had a long partnership with Cincinnati Public Schools, providing continuing education opportunities for its educators. The academy also serves almost 100 districts across the United States through online, place-based, or combination offerings.
"We intentionally set [Mayerson] up with its own setup as a 501c3 entity with its own board and all that," said Bryant.
Based on Chicago's Department of Cultural Affairs and Special Events, ArtWorks was a special project of former Cincinnati mayor Roxanne Qualls, and began as a summer youth employment program focused on the arts. Bryant and a team visited Chicago in 1999 to meet with directors and, inspired by the Cows on Parade exhibit, developed The Big Pig Gig and launched ArtWorks in 2000. ArtWorks hires apprentices between the ages of 14 and 21, focusing on those from low-income households and minorities. The organization is the main employer of artists in Cincinnati.
Bryant's two years with CYC turned into three when CYC founder and former CEO John Pepper asked Bryant to stay for a fourth year, leading him to resign from Wilmington College in 1994 and staying on as CYC's executive director until 2002.
"I think one of the things that the CYC should be extremely proud of is what it has meant and continues to mean to the City of Cincinnati. We always had at heart our focus on the kids, and this is what we envisioned for our kids."
Reported by Stephanie L. Smith
Listen to the complete audio interview with Dr. Bryant: