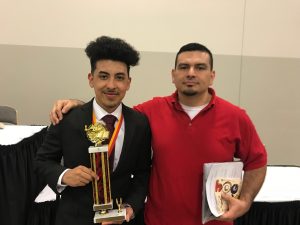 On 4/24, over 300 CYC students gathered at the Sharonville Convention Center for the 36th annual Career Development Conference (CDC) with Cincinnati Youth Collaborative's Work Readiness program, Jobs for Cincinnati Graduates (JCG). Students participated in team-building workshops led by professional coaches from the business community, attended an appreciation luncheon, and closed out the event with an inspiring awards ceremony. CYC thanks the P&G Fund of the Greater Cincinnati Foundation for their grant which helps make CYC's Work Readiness programming possible.
Throughout the day, students participated in team challenges with the themes of "Brawn," "Beauty," and "Brains." Each challenge involved working as a team to create a business model corresponding to the theme — an exercise program, a yogurt shop, or a charter school, respectively. Students were charged with picking business names, designing logos, and creating marketing plans. Teams were coached and judged by groups of professionals with experience in the related business field.
The students were honored at the luncheon, which included a moving keynote address from JCG public speaking champion and P&G Spirit Award winner, Bryan Madrid. It was a beautiful and heartfelt mission moment to end an incredible day!