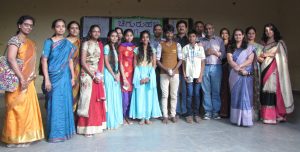 The power of mentoring is a remarkable thing to witness. It's a young life changed forever by the guidance and support of one caring adult. CYC mentor, Rama Nagaraju, was so moved by his experience mentoring Jaheim, that he took CYC's model all the way to his hometown of Bangalore in India.
Many of the children in Rama's community live in abject poverty, and there is a limited amount of resources to provide for each child's needs in the home or in school. Too often the children drop out of school, and Rama's dream is to see that all of the students graduate from high school.
With CYC as his inspiration, Rama saw an incredible opportunity to make a difference in the lives of these vulnerable students at KH Govt. High School. Partnering with Krupa Chakravarthy, CEO of Bangalore's Dream Path Foundation, the two worked together to facilitate the mentoring program beginning in the 2016-17 school year. Rama and Krupa worked to ensure that each one was placed with a caring and sustaining mentor. Rama shares, "To see the joy in the mentors when they see the children blossom is priceless. When children seek the mentors out for help it warms the hearts of the mentors and the mentors go extra distances to help out. It almost feels like a movement in progress."
One mentee, an 8th grade student named Malingayya shares, "I used to study only a little, but thanks to my mentor's support I am motivated to study more and work harder." The encouragement of a caring adult role model goes such a long way to inspiring youth.
Rama beams with pride as he talks about the mentees. He states, "There are several children who have begun to perform better in school. It is especially exciting to see how mentoring is helping the students learn English. There was one girl who competed in the school's English spelling bee competition and cleared a few significant hurdles. She was proud of her accomplishment."
CYC President and CEO, Jane Keller shares, "When Rama told me that he was starting a mentoring program in his native community, the word compassion immediately came to my mind. A compassionate person sees and says, 'I'll help' and that is exactly what Rama did. It is inspiring to see the result of Rama's determination…a mentoring program supporting 100 students in India, 8,600 miles from Cincinnati."
As for Rama's mentee, he is now a freshman at Walnut Hills High School and making great strides in his academics with the help and support of his mentor. All of us at CYC are so proud of the great work that Rama is doing in Bangalore, and enjoy seeing Jaheim achieve his dreams!