UC Med Mentors Laptop Ceremony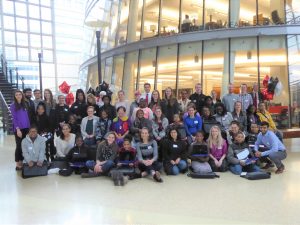 CYC had an amazing time at the UC Med Mentors Laptop Ceremony yesterday! Twenty South Avondale School students received the gift of a new laptop computer funded by a $10,000 grant from medical staff at Cincinnati Children's and a $10,000 grant from the Clare Foundation. Following the laptop ceremony, mentors, mentees, and UC staff members enjoyed a delicious dinner together.
CYC is proud to be a part of the mentoring journey for the UC Med Mentors and their mentees. We thank Dr. Charles Cavallo, president of the UC Med Mentors advisory board, and Dr. Keith Stringer, faculty advisor for the group, for all of their incredible efforts to grow the UC Med Mentors program. Their heart for our community's vulnerable youth knows no limits, and they have worked tirelessly to carry on the great work of Dr. Wan Lim, the UC Med Mentors founder.