Over the last three decades, CYC has been able to positively impact the lives of 160,000 students thanks to the united efforts of the Greater Cincinnati community. Passionate individuals who care about their city are an integral ingredient to CYC's success. Monna Beckford, the 2016 CYC Outstanding Mentor, is an outstanding example of the kind of community investment that makes both CYC and Greater Cincinnati great, and we are pleased to recognized her as February's CYC Hero.
Monna Beckford has been a long-time champion for her community. A resident of Evanston for more than 25 years, she is always finding ways to support the community around her. She serves on the Evanston Community Council as a Committee Chairperson on the Education Committee, she works with the local rec center, and she spends her days as the Community Resource Coordinator at Evanston Academy.
It was in that particular role she learned about Cincinnati Youth Collaborative (CYC). As the Resource Coordinator, Monna works with all partners and organizations that volunteer in the school. In fact, the very first CYC Girls Club was instituted in Evanston Academy (then called Hoffman Elementary School). Monna saw the impact made when a group of fourth and fifth grade girls could rely on seeing mentors every week for advice, creative activities, and culturally-broadening projects and field trips. Monna was deeply moved and began a similar group of her own, called Young Ladies at the Top.
Young Ladies at the Top guides girls to focus on self-esteem, goal setting, and etiquette, but it also acts as a support group. "A lot of girls in our community are struggling, either academically or in their personal life," reflects Monna. One girl in particular, Sahara, experienced the heartbreaking loss of her mother at a very young age. She opened up to Monna while participating in Young Ladies at the Top, and they became close friends. Monna remembers, "I wanted to stick with her and become a mentor, and I'm so happy I did."
Sahara graduated from Taft High School as valedictorian and received a four-year scholarship to Findlay University. Monna acknowledges that she played an important part in Sahara's success, but stresses that the best thing she did was "served as an advocate, someone she could pick up the phone and call."
Monna and Sahara are still close, "like a mother-daughter relationship," to use Monna's words. But she knew there were other girls who could use a mentor as well, and two years ago, Monna took on a second mentee, J*. She sings the praises of not just J, but also J's mother. "We have a partnership. It's like co-parenting."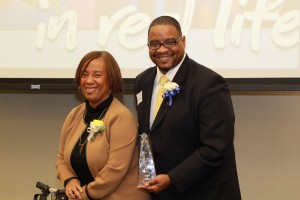 In fact, J and her mother were in attendance when Monna received the 2016 CYC Outstanding Mentor Award at CYC's Mentor Celebration. Monna's CYC Mentor Coordinator praised the way that Monna "believes in empowering parents and students, and the importance of education."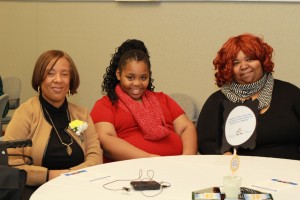 Ever the champion for collective impact, Monna is quick to express her gratitude for the many people and organizations who invest the community. "I am proud to say that we have close to 200 volunteers that come into the school to enhance student achievement," she beams. She expresses equal enthusiasm for the way those volunteers often become more and more involved, citing the number of community partners, and even teachers, who see CYC mentors and express a desire to become a mentor, too.
For Monna, it comes down to community. "Without a community, there's no school, no churches, no businesses. We have to all work together. It's about the next generation—our children. Our children need us."
We agree, and especially acknowledge that our children need more people like Monna. Thank you for your commitment to your community, and for being a CYC Hero.
Don't miss the story of the next CYC Hero! Subscribe below to receive an email notifying you when the next CYC Hero is announced.
[subscribe2]
CYC Heroes is a monthly feature recognizing individuals who go above and beyond expectations to serve the CYC community. Heroes come in many shapes and sizes: mentors, students, ambassadors, employees, donors, volunteers, and board members. Know someone who makes CYC stronger? Submit your CYC Hero nomination to Kate Elliott, at kelliott@cycyouth.org