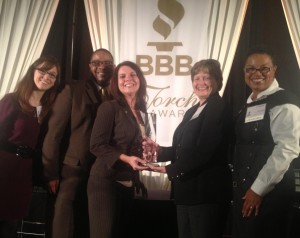 Cincinnati Youth Collaborative of Cincinnati was named as a winner of the 14th Annual BBB Torch Award for Marketplace Ethics in the Pavilion Ballroom at the Horseshoe Casino, Thursday, October 23 joining other event winners BM2 Freight Services, Inc. of Highland Heights; Infintech of Cincinnati; iSPACE, Inc.
"Our winners take great pride in ensuring an ethical marketplace where buyers and sellers can trust one another. This honor is earned through an exhaustive self evaluation. The end result is an extraordinary recognition from their peers and the community," said Jocile Ehrlich, President and CEO of BBB.
Accolades for the winners, punctuated by applause were well deserved after successfully completing a thorough self-evaluation of ethical practices and policies. Each application was carefully reviewed by a third party judging panel for a final selection, culminating in a glamorous celebration hosted by The Center for Ethics at BBB. Applications for the 2015 Torch Awards for Marketplace Ethics will be available in January. More information about Cincinnati BBB and The Center for Ethics at BBB is available by visiting bbb.org.
About Cincinnati Youth Collaborative (CYC): CYC, a United Way Agency Partner, has been committed to increasing Greater Cincinnati high school graduation rates for 30 years by collaborating with schools, businesses and volunteers throughout the community. Since its founding, CYC has served more than 160,000 students. Many CYC students face extreme obstacles such as homelessness, incarcerated parents, teen pregnancy and poverty. CYC empowers these students by placing positive adult advocates in their lives. Working directly with local school districts, CYC offers a credited course which teaches 37 core professional job skills, college readiness advisors who offer in-depth college and career preparation, as well as various mentoring platforms.
CYC's five-year graduation rate for senior students is 96 percent. To learn more about CYC's services and ways that you can positively impact the lives of our city's most vulnerable youth, visit cycyouth.org.
ABOUT BBB: For more than 100 years, Better Business Bureau has been helping consumer find businesses, brands and charities they can trust. In 2013, consumers turned to BBB more than 132 million times for BBB Business Reviews on more than 4.5 million businesses and Charity Reports on 11,000 charities, all available for free at bbb.org. BBB Serving Cincinnati, Northern Kentucky and portions of Indiana, founded in 1926 and serving 20 counties, is one of 112 local, independent BBBs across North America.