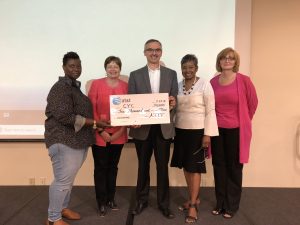 July was a very exciting month for CYC! Thanks to the generosity of the AT&T Foundation, CYC is the recipient of a $10,000 grant for our Work Readiness program, Jobs for Cincinnati Graduates. AT&T Director of External Affairs, Mark Romito, and Cincinnati City Councilwoman, Tamaya Dennard, were on site for this special check presentation at the 2018 Summer Work Experience Opportunity reception, which celebrated our youth completing their summer internships.
The SWEO is a program founded by Jobs for Cincinnati Graduates and was created to provide work readiness to students by setting them up with internships in fields they are interested in pursuing after high school.
This year's summer internships took place at various locations such as Cincinnati Children's Hospital Medical Center, Art Beyond Boundaries, the Cincinnati Police Department, J.C. Battle & Sons Funeral Home, and many other great companies across the city. During the students' time at their internships they were tasked with an array of assignments. Many of the assignments were tasks such as cleaning, answering phones, and researching specified topics.
We are incredibly grateful for the ongoing generosity of the Foundation which makes these opportunities possible for our youth. We also thank Mr. Romito and City Councilwoman Dennard for championing CYC's mission to empower vulnerable children and young adults to overcome obstacles and succeed in education, career, and life.