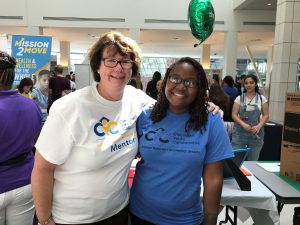 October is an extra special time of year at CYC. It is a time for embracing all of our wonderful mentors, volunteers, and staff for being Dream Makers. It's when we come together as a community to celebrate our great work and the important milestones we've achieved at our annual Dream Makers Celebration. Our Dream Makers are CYC's heroes and champions, and CYC would not be here today without their support!
One such hero and Dream Maker is Barb Szucsik, CYC executive board member, volunteer committee member, and mentor. When we contacted her to let her know we had chosen her as our October CYC Hero, Barb was slightly surprised, stating that her work is nothing "extraordinary," and that she was merely doing what any good person would do — give back!
Giving back, however, is just what it means to be a CYC Hero. It's ordinary people taking the time to do what they can (and when they can) to make a difference in their community. Barb is the epitome of a CYC Hero. This is reflected in her many acts of service at CYC, but today we're highlighting the important and remarkable difference that she's made in the life of her CYC mentee, Raishel Farrier.
Barb, a Cincinnati based attorney at Convergys Corporation, initially began mentoring Raishel because of their mutual interested in the legal field. "Raishel was interested in becoming a paralegal," Barb relays proudly. This is "a career I had before law school. We bonded over that common interest and then our friendship blossomed."
Raishel credits Barb with being the greatest source of encouragement she's had in her life. Lyricist and author, Sidney Madwed, states, "The finest gift you can give anyone is encouragement. If everyone received the encouragement they need to grow, the genius in most everyone would blossom and the world would produce abundance beyond our wildest dreams."
Reflecting on that encouragement, Raishel says, "There is nothing more impactful than having a friend that is always there for you, through the good and the bad. I have had many great moments in my life and moments that I was not so proud of. Barb has been there through every moment and has given me the greatest advice."
On the benefits of mentoring, Barb is known for telling others, "Don't be afraid to do it!" She elaborates, "As mentors, we have had plenty of life experiences where things didn't always go the way we wanted, or perhaps made some choices we regretted at the time. However, we've learned and grown from those experiences, and hopefully we can help mentees navigate some of the choices and opportunities."
Raishel notes, "The time commitment is nothing compared to the impact that you will have on your mentee. Barb has been in my life since high school, and I am now a junior in college. It is the greatest feeling in the world to be able to confide in someone who actually knows who you are and what you want to achieve."
At CYC, we want to thank Barb and all of our mentors for making an incredible difference in the life of a vulnerable young person! Our mentors and volunteers are the heart of our mission. Thank you for your ongoing belief and encouragement of your mentee! You make and difference, and thank you for being a hero!