Cincinnati Youth Collaborative received a $10,000 grant award from the Charles H. Dater Foundation for the Jobs for Cincinnati Graduates program. This grant will impact the hundreds of students who learn practical, character-building skills that prepare them for success in school pursuits, careers, and in life. JCG alumni go on to become productive members of the Cincinnati community, employed by businesses like Luxottica, Macy's, Hertz, and more. The JCG program has a strong record of recognition at the statewide Jobs for Ohio's Graduates conference, including three first-place recipients in Public Speaking, Employment Interview Skills, and Cover Design.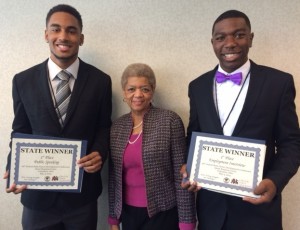 Jobs for Cincinnati Graduates is a credited in-school elective equipping students with 37 core character competencies that prepare them for post-secondary pursuits, whether they be enrollmenet, employment, or enlistment. The JCG program is the local chapter of the statewide Jobs for Ohio's Graduates program, and the nationwide Job for America's Graduates (JAG) program. JCG is no stranger to recognition: for the past 19 years JCG has received the "5-of-5″ site award, granted to programs that meet or exceed the JAG national standards. In addition, Program Manager Leta White was awarded the 2014 SuperAward for Youth Advocate, and Program Manager Judith Moore Tucker received the JAG Foundation Award in 2014 for 32 years of service.
The Charles H. Dater Foundation was founded in 1985 and makes grants to non-profit organizations in the Greater Cincinnati area to carry out projects the benefit children and focus in the areas of arts/culture, education, healthcare, social services and other community needs. Charles H. Dater (1912-1993) established the foundation to ensure that funding for worthwhile community programs would continue after his death. The Foundation honors the memory and preserves the philanthropic commitment of Charles and his ancestors, whose hard work and business acumen over four generations provided them with the opportunity to share their success with their community. 
Thank you to the Dater Foundation for investing in our students.