National Mentoring Month is the perfect month to kick off CYC Heroes, the new monthly feature recognizing individuals who make CYC great. Subsequently, it seems only fitting that the January Hero be a mentor—CYC's 2015 Outstanding Mentor, Trinitii Brewer, that is.
Trinitii Brewer was drawn to working at Luxottica largely because of the company's emphasis on giving back. Soon after beginning employment, Trinitii became actively involved with the Luxottica Mentoring Program, a collaboration between Luxottica, Cincinnati Youth Collaborative (CYC), and Withrow High School. Ten years later, Trinitii is now a member of the Steering Committee for the Luxottica Mentoring Program, and still deeply passionate about her role as a mentor.
"I describe mentoring as life-changing," she says. "I don't know of any other experience like this."
Alicia Tidwell, the Lead Program Ambassador for the Luxottica Mentoring Program, sees Trinitii as "a true champion of helping people with a hand up not a hand out."
Trinitii hasn't always found the role of mentor to be easy. Through the last ten years, Trinitii has mentored several young ladies, some facing more challenges than others. "I've had mentees whose parents didn't necessarily understand or respect the program," she recalls. "It affected everything. I remember pulling Alicia (Tidwell) aside and telling her I didn't think I was cut out for the situation." She did not give up, though. "I just had to remember that my role wasn't to be the hero, it was to offer help in other ways."
It is her perseverance and straightforward honesty that make her such a valuable role model for the young ladies she mentors. Trinitii's current mentee, Alicia P., attests with enthusiasm, "She will not sugarcoat anything. If there is something that needs to be known, she will tell you." With a laugh, she adds, "That's what I love about her. She's always on my school work. She won't let me slack."
Alicia P. and Trinitii have been matched for three years now, and their conversations are generously peppered with giggles. When asked about the first day they met, Trinitii recollected, "I knew right away that we were going to work. We sat and talked and we never ran out of things to talk about." Alicia P. agreed, saying, "She was goofy and I'm goofy, so we clicked automatically the first time."
They see each other once a month and text frequently. Despite busy schedules, they find time here and there to go out to eat. Recently, Trinitii took Alicia P. to hear a former mentee speak at church, proving that the mentoring relationship does not end after high school. Its profound effect lingers, an effect Trinitii had not expected when she first began mentoring.
"The first mentee I had…after my four years with her, when she was giving her presentation for a scholarship, they asked her what she got out of the program. She immediately choked up and said she didn't know who she'd be if she hadn't met me. I thought, 'That is an amazing effect to have on someone.'"
Trinitii continues to have that effect on her mentees. As Alicia P. explained, "She will always help me. I won't ever feel like I'm alone."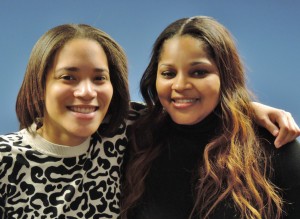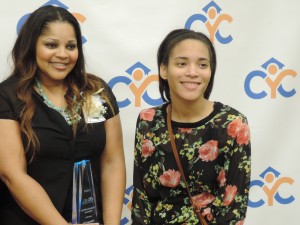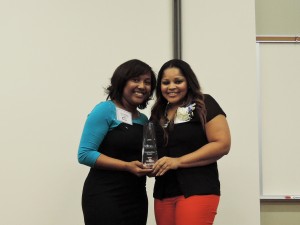 Don't miss the story of the next CYC Hero! Subscribe below to receive an email notifying you when the next CYC Hero is announced.

[subscribe2]

CYC Heroes is a monthly feature recognizing individuals who go above and beyond expectations to serve the CYC community. Heroes come in many shapes and sizes: mentors, students, ambassadors, employees, donors, volunteers, and board members. Know someone who makes CYC stronger? Submit your CYC Hero nomination to Kate Elliott, at kelliott@cycyouth.org