CYC has one of the longest-standing strategic relationships with Cincinnati Public Schools (CPS) districtwide. This partnership is a crucial element to our success, and we are grateful for the many CPS personnel who augment our work every day. We are especially grateful to the fearless leader of the district, Superintendent Mary Ronan, whose commitment to area youth shines in every aspect of her life. In addition to recognizing her with the 2016 CYC Ambassador Award, we also name her as the January CYC Hero.
While growing up in Price Hill, Mary Ronan may not have dreamed of becoming the superintendent of a large urban school district. She knew, however, that she enjoyed working with children, so she became an educator. After several successful years as a math and science teacher, she sought greater influence over the education system as a whole, and began her journey in education administration.
Despite the fact that, at the time, the field of school administration was largely dominated by men, Mary found it to be a great fit for her skills. While she was principal of Kilgour Elementary School, the school was honored as a National Blue Ribbon School of Excellence by the U.S. Department of Education.
After her exemplary service at Kilgour, Mary moved on to central administration as the Assistant Superintendent, then Director of Schools. Then, in 2009 she became Superintendent of Cincinnati Public Schools, the third-largest school district in Ohio. Many will attest that she has used her position as an opportunity to develop leadership skills and advance the professions of principals and potential principals of both genders.
Mary Ronan's influence on CPS has been profound and positive. Under her leadership, CPS has become the largest school district in the state to achieve the ranking of "Effective." As Assistant Superintendent and continuing into her first year as Superintendent, Mary led the implementation of Elementary Initiative: Ready for High School. This initiative provided comprehensive support to the lowest-performing elementary schools. Her belief that all students could reach their full potential was realized as all targeted schools showed significant academic improvement.
With Mary Ronan as Superintendent, the long-time partnership between CYC and CPS has only strengthened. She has served on the CYC Board during her time as Superintendent. The CPS MyTomorrow*ed initiative is perfectly aligned with CYC's mission as both combine high expectations, technology, and mentoring to prepare all students for success after high school. With Mary's support, CYC mentors are provided unparalleled resources, including access to students' academic records which deepens the impact of a mentor's intervention in an at-risk student's life. And her partnership has been invaluable in the launching of the new College Mentoring Initiative, a community-wide initiative to increase college success among CPS graduates.
At CYC's 2016 Mentor Celebration, Mary Ronan was awarded the 2016 CYC Ambassador Award. This award is given to an individual, couple, or organization who has been a long-term partner of CYC, advocating for CYC's mission of empowering young people both in their own work and throughout the community. The award recipient must have a passion and vision that brings new people into the CYC community, and be committed to improving opportunities for all Cincinnati youth, and creating pathways to success in education, career, and life. When presenting the award, President & CEO Jane Keller said, "I can't think of anyone who fits the bill so perfectly as Superintendent Mary Ronan."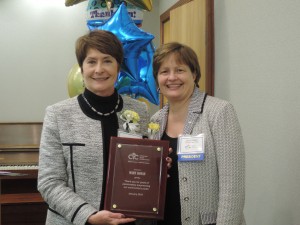 In her selfless style, while accepting the award, Mary spent her time thanking the mentors, saying, "I don't think that there is a better contribution we can make as a human being." She went on: "Thank you for hanging in there when times got tough…Somehow you all stuck with it, and all of you out there truly, truly deserve this award."
Mary commits tireless energy to the Cincinnati community, not just through her day-to-day work but also through the many organizations on whose boards she serves. She has been described by colleagues as "a joy to work with" and "an inspiration for young women who want to follow her lead and potentially impact the lives of thousands of young people."
CYC is fortunate to have such a passionate partner on our team, which is why we recognize her as a CYC Hero, but we are not the only fortunate ones. Her leadership and support benefit all youth in Cincinnati and create a bright future for the entire city.
Don't miss the story of the next CYC Hero! Subscribe below to receive an email notifying you when the next CYC Hero is announced.
[subscribe2]
CYC Heroes is a monthly feature recognizing individuals who go above and beyond expectations to serve the CYC community. Heroes come in many shapes and sizes: mentors, students, ambassadors, employees, donors, volunteers, and board members. Know someone who makes CYC stronger? Submit your CYC Hero nomination to Kate Elliott, at kelliott@cycyouth.org