At a news conference Thursday, January 14, several prominent community organizations announced their collective response to the growing concern that too many college students drop out before earning a degree. Cincinnati Youth Collaborative (CYC), Cincinnati Public Schools (CPS), Cincinnati Scholarship Foundation (CSF), University of Cincinnati (UC), University of Cincinnati Blue Ash (UCBA), Accenture, and The Business of Good funded by the ownership group of Raising Cane's Ohio, have all pledged their support to a new initiative which supports local college students to ensure their success.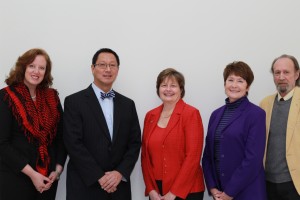 The initiative comes at a time when the city is seeking solutions to the childhood poverty crisis. Speaking at the press conference, President & CEO of CYC, Jane Keller, reminded attendees, "More than 47% of our city's children are living in poverty." Citing education as a tool for breaking generational poverty, the initiative is built around mentoring, which Keller described as "a proven tool" for improving academic outcomes.
Keller continued, "Research shows that mentored youth are statistically more likely to enroll in college, more likely to have strong attendance, and more likely to have an overall positive attitude about school."
The Business of Good Foundation, an organization from Cleveland working in Cincinnati for the first time, is providing its web-based mentoring platform. When first introduced in Cleveland, the platform supported more than 700 matches in the first three years. CYC will match college-bound CPS graduates with local mentors, and the relationships will be supported by a CYC Mentor Coordinator, and also by the resources and communication options made available in the online mentoring platform.
While the initiative will support college students at any local institution, Dr. Santa Ono of UC and Dean Cady Short-Thompson of UCBA were both present to pledge their support to the partnership and the students. Also present was CPS Superintendent Mary Ronan, who described the initiative as "a perfect fit with Cincinnati Public Schools' My Tomorrow initiative."
During a Q&A session at the end of the conference, Keller laid out the goal of 40 new college mentors by the beginning of the 2016-2017 school year.
Check out the local news coverage of this exciting initiative!