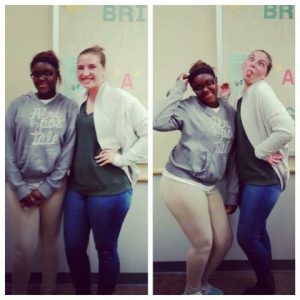 Layla Helton immediately lights up when asked about her mentee, Ke'Andria Harris, a senior at Robert A. Taft Information Technology High School. 
The bond between CYC mentors and their mentees is a very special one, and Layla's smile conveys this message with genuine sincerity.
A young professional in her mid-twenties, Layla was committed to volunteering in her community following her master's program at Xavier University. "I thought I would start with youth," she beams. "I wanted to become a mentor after speaking with [CYC mentor], Betheny Herr, and hearing her mentoring story. I knew this would be a great opportunity to make a difference – to make a real impact."

Layla and Ke'Andria
had an instant connection when they were matched. "It could not have been more perfect," Layla recalls fondly. "Both of us are passionate about learning, and Ke'Andria is a very dedicated student. She throws herself into her studies completely. She loves the sciences, and ultimately hopes to become an ultrasound technician. As a millennial, I definitely felt a strong pull to mentor a high school student. I thought I could offer some real life experience and helpful tips to my mentee as she explores her college options."
The value and benefit of CYC mentoring relationships is clear, and this is why we strive to place one caring adult in the life of a vulnerable child. Over the past five years, 96% of CYC seniors graduated on-time from high school, and 86% of our students successfully transitioned to their next steps – enrolled in college/technical training, employed or enlisted in the military. 

Mentors play a significant role in shepherding our students to these critical milestones. 

Layla jumped right in with helping Ke'Andria meet these vital benchmarks for success. They started with college financial aid applications and college visits. "
My main goal is to help her find the right college to achieve her dreams," she says. "Fit is so important. I want to support her as much as possible with the college admissions process. Recently, we went to look at the University of Cincinnati together. It was a great experience."
Layla has many hopes and wishes for Ke'Andria. She muses, "I look forward to being there for Ke'Andria when she graduates from high school this coming spring, and continuing our relationship when she goes to college. Ke'Andria is an incredibly strong young woman, and has already overcome a great deal in her life. It's my sincere hope that college will empower her to keep fighting for her dreams. I know she will be an amazing ultrasound technician."
On the mentoring experience, she adds, "It's been a lot of fun, and I can't imagine not being there for my mentee. She is a huge part of my life."