Cincinnati Youth Collaborative has received $85,000 from the Ohio Department of Education's new Community Connectors grant initiative. The grant will benefit a new Cincinnati Youth Collaborative (CYC) expansion, College and Career Mentoring. These funds will support and further the partnership between CYC, City Gospel Mission (CGM), Cincinnati Public Schools (CPS), and local businesses via the Business Education Connectivity Council (BECC) formed with the support of the Cincinnati USA Regional Chamber.
"At a time when Cincinnati's childhood poverty is the second highest inthe nation, investment in future generations becomes imperative," says CYC President & CEO Jane Keller. "Our thanks to the Community Connectors grant, which enables us to strengthen and expand our community partnerships and allows more individuals to be involved with making lasting impact on young lives."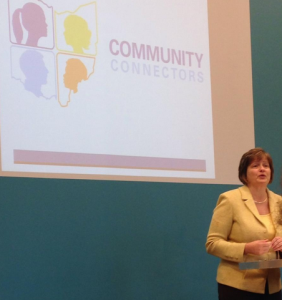 The CYC College and Career Mentoring expansion will match CPS youth with 1 to 1 mentoring opportunities. As well as providing critical mentoring support, career guidance and potential career development opportunities for vulnerable youth, the program aims to foster a positive experience for mentees, mentors and businesses.
About Community Connectors:
Created in 2014 by the governor and Ohio legislature, the Community Connectors provides $10 million in 3-to-1 matching grants, distributed to programs that aim to bring together students, their parents, schools, communities, faith-based organizations and business in mentoring programs. The grant targets students in grades 5-12 in low-performing/high-poverty school. The goal is to inspire students to be excited about their future and to learn what it takes to put their dreams and goals into action. Learn more at communityconnectors.ohio.gov