We are honored to have been selected by the Cincinnati USA Regional Chamber as the 2015 Non Profit of the Year.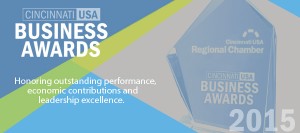 The Cincinnati USA Business Awards assess local small businesses based on their customer focus, leadership style and company culture, strategic planning and sustainability of business, and community involvement. The extensive application demanded a thorough assessment of our practices and our impact, and we are thrilled to be recognized in this way. 
As President & CEO Jane Keller said while accepting the award,
"We have achieved high impact because of our volunteers, our partners, our supporters, and our students. And that's who this award is really for: our students."
We are deeply grateful for a supportive community as passionate about empowering students as we are. Thank you for your support – we share this award with you.