Taps established leader to expand agency reach and deepen engagement with region's business community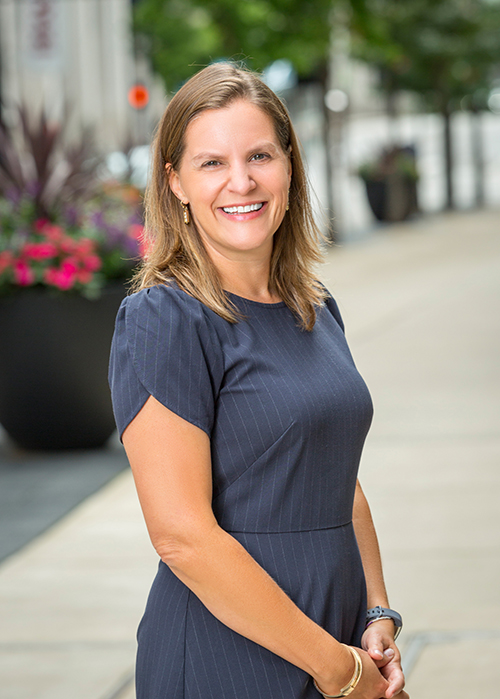 Amy Thompson has been named the new CEO of Cincinnati Youth Collaborative (CYC), a leading Cincinnati nonprofit committed to empowering vulnerable youth and young adults to overcome obstacles and succeed in education, career and life.
"Amy's experience, passion and capabilities are tailor-made for CYC's game-changing model in which the business community actively engages in the advocacy and support of vulnerable youth," shared Board Chair Jack Geiger. "From championing lifelong, experienced-based learning for youth to inspiring our business leaders to make a difference in their organizations and community, Amy brings CYC a powerful combination of skills. We can't think of a better person to lead this organization into the future."
As Vice President of the Cincinnati USA Regional Chamber's Leadership Center, Thompson oversaw the Chamber's premier leadership programs and helped develop the region's top talent. She joined the Chamber in 2016 and has led the region's flagship leadership program – Leadership Cincinnati – in which she has connected and activated Greater Cincinnati's most prominent business and community leaders.
Prior to joining the Chamber, Thompson spent nearly 20 years at Camp Joy – her final six as the organization's executive director – where she engaged children, young adults and business leaders to combine team-building initiatives with outdoor education.
"I'm honored to have the opportunity to lead this transformative organization in our community," Thompson said. "CYC fulfills two great passions of mine – motivating and advocating for children and connecting business leaders to the community and the pursuit of their passions."
CYC's service model unites more than 1,500 volunteers and 100 corporate partners to support initiatives within five local school districts, including Cincinnati Public Schools, Finneytown, Winton Woods, North College Hill and Norwood City Schools. Program components include Mentoring, College & Career Success, Work Readiness and School & Community Partnerships.
The CYC board formed a search committee and partnered with The Yunker Group to conduct an extensive and competitive CEO search. Board Secretary Joel Stone, SVP and Managing Director of Private Bank at Fifth Third, applauded the outcome: "Amy Thompson is an impressive community leader and connector, and the committee was proud to recommend her to the board. We're excited for her to hit the ground running and make her mark on our region's education landscape."
"I look forward to collaborating with CYC's leadership team, board and volunteers to deepen our engagement and impact in our schools and to extend our reach among our most vulnerable youth," Thompson added.
Thompson officially takes the helm at CYC on January 3, 2022. She replaces former CEO Ericka Copeland who left the organization in July to pursue other opportunities.