"I believe in education. It's slow, one at a time, but if a child is not educated they will never escape poverty."
These words from Dr. Wan Lim are a testament to her life's calling. Dr. Lim is the founder of the University of Cincinnati Medical Mentor Program, often referred to as Med Mentors, an invaluable part of CYC's mentoring services. Now in its fourteenth year, Med Mentors began with just 17 medical students in its first year and has grown to involve about 200 medical students and 150 Cincinnati Public Schools students per year. Well over 1,500 students, both college and elementary, have been impacted through the program's history. Dr. Lim's passion, dedication, and entrepreneurial attitude are why we are proud to recognize her as March's CYC Hero.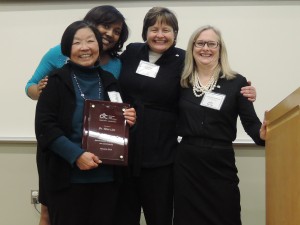 Jo Henderson is the CYC Mentor Coordinator who works closely with Dr. Lim. Jo attests, "Dr. Lim is a perfect model of CYC's core values: passion, empowerment, and community. She teaches that advocacy and giving back are a requirement, not an option."
Raised in Malaysia in a family of 25 who were all supported by one small photo business, Dr. Lim is no stranger to the profound effect of education as a tool to better one's life. Despite her family's situation, her siblings run the gamut of professional success: two physicians, a dentist, a nurse, a computer scientist, and a geological engineer. Dr. Lim explains matter-of-factly, "The ones who are educated are doing well."
Dr. Lim moved to Cincinnati around December 1999 to begin her role as Associate Professor at the University of Cincinnati (UC). She longed for service opportunities like she had created in Alabama, where she ran a program bringing medical students into schools to teach anatomy. Prompted by an article in the paper requesting new mentors, Dr. Lim signed up to be a mentor with Cincinnati Youth Collaborative.
As is the case with some mentoring matches, not every one was a success. Her first and third mentees were not particularly interested in being mentored, and the matches were eventually terminated. "I always tell my Med Mentors," says Dr. Lim, "if it doesn't work out with the first match, don't give up. There is always someone who needs you."
For Dr. Lim, that was her second mentee. She was a student at Walnut Hills, and with Dr. Lim's encouragement she graduated from Duke University, then followed jobs to New York and Texas. They are still in touch, and Dr. Lim shares that the young lady was recently married.
Around Dr. Lim's fifth match, she also discovered the benefits of co-mentoring. Dr. Lim and medical student Jennifer worked together to mentor AN*, a student at Withrow University High School. The situation was beneficial for all involved—AN's home life was deeply troubled, but now she had two positive adult advocates to whom she could turn in times of need. Additionally, Jennifer enjoyed helping out with social struggles, while Dr. Lim could focus more on academic development. The teamwork paid off: AN was the first in her family to graduate from college and she is currently employed in Cincinnati. "She still needs mentoring," admits Dr. Lim, "but that's life. I stay in touch with her. She is a prime example. She is the only one in her family who got an education, and she is the only self-sufficient person."
One might think that individual mentoring would have been enough "giving back," but not for Dr. Lim. During her first year at UC, as a first-time faculty member she was expected to lead a project. She decided to investigate what students were doing on campus to give back to the community, and she found that most community service was strictly internal within the campus. Seeing a need for community outreach, she knew mentoring with Cincinnati Youth Collaborative would be a good fit. 
"The first few years, we didn't really know what we were doing. We had no money," Dr. Lim laughs. "In a way it was nice. It was a very intimate group."
Over the years, the program has become more streamlined. Originally open to all schools and all ages, the program now targets elementary school students. "Studies show that it's important to get to these kids early," explains Dr. Lim. CYC takes care of training each batch of new mentors by bringing the training to the campus. There is now a Student Board to handle the organizing of group functions and field trips, tasks Dr. Lim used to manage all by herself. Dr. Lim is also in the process of transitioning much of the leadership over to an Advisory Board, which includes people from Cincinnati Children's Hospital Medical Center and the UC College of Medicine.
Many of these changes are due to the fact that after fourteen years, Dr. Lim is retiring and stepping down from her role as leader of the Med Mentors Program. You wouldn't know it from talking with her, though. She eagerly shares plans to study the cultural competency effects of the program, the development of better nutrition education for mentees, and hopes to provide mentees with computers so that the medical students can teach computer skills.
Dr. Lim is proud of the growth of the organization over the years. Though originally intended to be a service organization, she is pleased to note that it turned out to be a learning opportunity for the medical students. "They learn a tremendous amount interacting with these students," she states. "That's why we call it service learning."
"I can't imagine where these students would be without Dr. Lim's foresight to begin this program, and her commitment to it over the years," gushes Jo. She expresses the feelings of everyone at CYC when she continues, "I can hardly express how much we all will miss her."
Dr. Wan Lim: educator, advocate, leader, and definitely a CYC Hero.
Don't miss the story of the next CYC Hero! Subscribe below to receive an email notifying you when the next CYC Hero is announced.

[subscribe2]
CYC Heroes is a monthly feature recognizing individuals who go above and beyond expectations to serve the CYC community. Heroes come in many shapes and sizes: mentors, students, ambassadors, employees, donors, volunteers, and board members. Know someone who makes CYC stronger? Submit your CYC Hero nomination to Kate Elliott, at kelliott@cycyouth.org