Cincinnati Youth Collaborative (CYC), the recipient of the 2015 Cincinnati USA Business Award for Non Profit of the Year, welcomed Kathy Vuturo of Cincinnati Children's Hospital Medical Center as the newest member of CYC's Board of Directors.
"As an organization founded on the ideals collective impact, we know that CYC's success thus far has been due to a history of strong leaders," said President & CEO Jane Keller. "We are excited to continue that tradition with the addition of Mrs. Vuturo, whose career exemplifies a passion for excellence and community."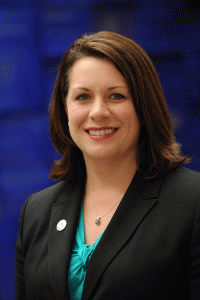 Kathy Vuturo joined Cincinnati Children's Hospital Medical Center in 2005 and currently serves as the Vice President, Strategy & Planning.  In this capacity, in addition to leading the institution's strategic planning efforts, Kathy is responsible for Business Planning, Market Intelligence, Physician Liaisons, Community Practice Services, and the Land Use & Facilities Master Plan.  Prior to joining Children's, Kathy spent eight years at Deloitte Consulting working with children's hospitals and other academic medical centers, most recently as a Manager in the Healthcare Strategy & Operations Practice.  At Deloitte, Kathy led projects in strategic planning, operations, academic funds flow, revenue cycle, and academic program design.
Kathy received her MBA from the Yale University School of Management and her BA in Political Science from Carleton College.  Kathy and her husband Chris live in Mt. Lookout with their two sons, Leo & Cyrus.  Kathy is also a member of the board of 4C for Children.