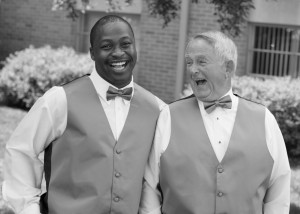 Lamont Watkins was growing up in Over-the-Rhine well before it was the hottest place to be in Cincinnati. Back in the mid-90s, his mother was doing her best, but times were hard and resources were limited. Recognizing that she alone could not give Lamont the opportunities he deserved, she enrolled Lamont in CYC Mentoring. When Lamont was in fifth grade, he was matched with Tim Clarke.
It didn't take long for Lamont to become a part of Tim's family. He would visit the Clarke household often, and became like another sibling to the Clarke children. Lamont did well in school, and with Tim's encouragement went straight to college, enrolling in Wright State University.
Unfortunately, the obstacles facing a first-generation college student are profound, and Wright State was not the right fit for Lamont. He completed only a few semesters before withdrawing. Faced with the subsequent student loans, he enrolled in the Army Reserves. The military was a positive experience for Lamont; though he only signed up for four years, he remains active to this day and has achieved the rank of sergeant. And life just keeps getting better. Three years ago, he met his now-wife, Bethany, who was quickly introduced to the Clarke family.
At their fall 2014 wedding, Bethany was thrilled to see Tim standing beside Lamont as best man. Bethany shares, "Many of the wonderful qualities I see in Lamont, I also see in Tim. They're both givers. They give their time, friendship, and generosity to everyone they meet." She credits Tim's continued presence in Lamont's life with Lamont's continued ambition. He recently earned his Associate's degree in Automotive Business and Management from Cincinnati State, and moved to Toledo for his current job at an assembly plant. He wants to finish a second Associate's degree, and still dreams of a Bachelor's degree. "Tim continues to push him into following these dreams. I think it's one of the reasons Lamont is such a hard worker."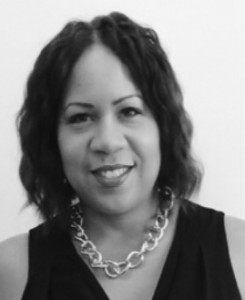 Monica Banks Burgess loves working at Luxottica because of the benefits, and she's not just talking about health care. She's talking about the Luxottica Mentoring Program, a partnership between Luxottica, Cincinnati Youth Collaborative (CYC), and Withrow High School, an element she recalls being integral in choosing to work there. "There's a company that wants to give back to kids, that's part of working here," Monica said, "It's something that's supported by the company."
Even better is the way that Monica has come full circle. You see, Monica was a part of Jobs for Cincinnati Graduates (JCG) back in 1994, and now JCG is a part of CYC—full circle. During her senior year of high school, Monica enrolled in JCG at Winton Woods and she quickly developed a deep rapport with her Career Specialist, Lynn Anderson. Anderson was instrumental in helping Monica cope with her parents' divorce that year. "She just knew something was going on, just kind of pulled me aside and put me underneath her wing to keep me busy and keep my head out of all that was going on."
After high school, Monica thought she would take a year off to save for medical school. But her summer internship led to another job, which led to another, which became years of opportunities leading her into the in-depth business aspects of retail. Four years ago those opportunities led her to Luxottica. Monica is now an avid supporter of the Luxottica Mentoring Program, as well as a mentor through CYC's one-to-one mentoring program. She even recently got back in touch with Lynn Anderson, declaring, "She's never coming off my radar for 20 years again."
Monica looks back on her journey with pleasant surprise. "I'm a planner by nature. Just knowing that I did not take the traditional path yet still found success is the biggest lesson I learned. I'm not a doctor, but I'm still giving back, I'm highly involved – success in that way."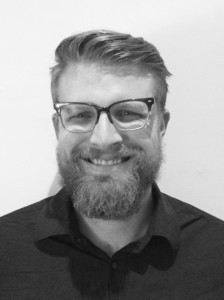 Justin Leach knew he wanted to positively impact large populations of students—he knew he wanted to be a school administrator. After earning his undergraduate degree in History and Secondary Education with a focus in Social Studies, Justin spent two years at COSI working in informal education and curriculum development. But he knew he wanted to go to graduate school for education leadership, so he needed a job that would allow him to attend grad school and gain more in-school experience. That's what brought him to CYC.
While a member of CYC's 2009 AmeriCorps team, Justin was a college advisor at Oyler Community Learning Center. As an AmeriCorps Ohio College Guide, Justin assisted students, many the first in their family to look at college, with completing college applications, filling out FAFSAs, searching for scholarships, and preparing them for the college experience. This was an especially profound role for Justin, who said, "I was a first generation college student myself, so it was fresh in my memory, the struggles of doing well academically in college while trying to navigate financial aid and scholarships."
One year with CYC laid a strong foundation for Justin's future career in Cincinnati Public Schools. After a year at Oyler with CYC, he transitioned into being a social studies teacher within the district, and then the department chair at Oyler. In August of 2014 he took on his current role as Assistant Principal at Riverview East Academy. The new position is just what Justin had hoped. "I like that I have day to day interactions with both students and staff," he said, "making Riverview a welcoming school culture for all students, give them strategies to better advocate for themselves in the future."
"My experience at Oyler prepared me for greater responsibilities. CYC got me off on a good start in Cincinnati."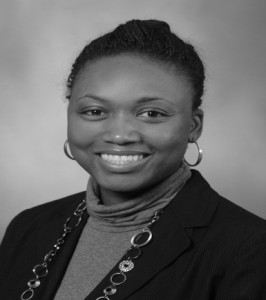 Marcia Jackson-Isome was fortunate to grow up in a family with college goals, but she was aware that she was somewhat of an exception to the rule in her neighborhood. "The area I grew up in," she remembers, "you didn't want to get lost in the shuffle and get pregnant too soon or drop out." CYC's Jobs for Cincinnati Graduates (JCG) program at Western Hills was a perfect match for Marcia's drive and work ethic. Her Career Specialist Vicky Perkins provided extensive training for job applications. "Every summer after that, I had a job," she says.
She credits those jobs with the success she has found after she made college dreams a reality. Marcia started at Cincinnati State, then transferred to University of Cincinnati where she obtained a degree in Marketing and a minor in Management. She has since earned an MBA in Marketing and HR from Strayer. "But college," she says, "doesn't teach you real world. I'd get feedback all the time that I was mature, that there were things I didn't need to learn. That was thanks to JCG."
While attending UC, Marcia was one of five people selected for Macy's Executive Development Program. The 20-month program provided hands-on experience in project development and customer service. The positive experience laid the foundation for Marcia's career – she has been at Macy's ever since, and is currently in charge of the very Executive Development Program that gave her a start. She remains involved with JCG, conducting mock interviews with students, attending the Career Development Conference, and staying in touch with a handful of former classmates. She declares, "It's been a foundation for me."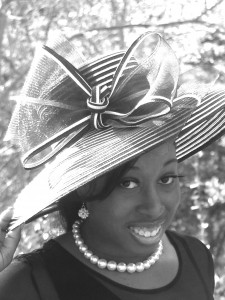 Dominique Springs was a member of CYC's Jobs for Cincinnati Graduates program at Aiken high school and participated in a CYC summer program held at Cincinnati State.
She remembers a project from that program which challenged her to do something that made her uncomfortable. Dominique dreamed of being a reporter, so she wrote an article, took a chance, and submitted it to none other than  The Cincinnati Enquirer. Sure enough, it was published.
Dominique went on to graduate from Mount Saint Joseph with a B.A. in Communications and New Media Studies, completing four different co-ops along the way. In the summer of 2014, Dominique worked as the Youth and Public Information's summer intern at Southwest Ohio Regional Workforce Investment Board (SWORWIB). 
She said the opportunity at SWORWIB was great because, "I was learning so much…and getting to network with all these different great people, people I never thought I would shake hands with because of where I came from—I shook hands with Governor Kasich!" She is currently the Events and Marketing Manager at the Kennedy Heights Arts Center. 
Her advice for students who might be feeling unsure about their futures is, "Just try. Try what you think you're scared of. I'm scared to go to law school, but I'm going to try."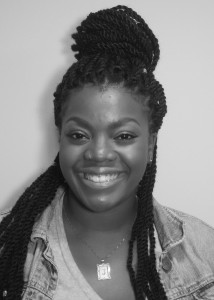 Kiaya White knew she wanted to go to college, but as a first-generation student, her family did not have the experience or resources to help her make her dreams come true. Fortunately, by participating in the CYC AmeriCorps College Guide program at Shroder High School, Kiaya received ample individual guidance. Her CYC Advisor helped her to choose a career path and find the college institution that was right fit for her. Thanks to her hard work and strong academic records, she found and procured substantial scholarships to make the endeavor affordable. She was also a CYC Outstanding Student Nominee.
In 2014, Kiaya received her Bachelor's degree in Mass Communications from Miami University and quickly found employment in Client Services and Sales, as well managing social media. She is currently pursuing a Master's in Marketing and Communication from Franklin University. Her journey is truly coming full circle as she is currently serving as a CYC College Advisor through the AmeriCorp Ohio College Guide program.
"When I was in high school, I knew I wanted to go to college but I didn't have any direction. CYC provided a light at the end of the tunnel."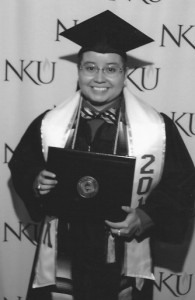 Nayeli Giron immigrated with her family at eight years old and struggled to fit in because of the culture and language barriers.
Getting involved in CYC after-school programs helped her to come out of her shell. 
Nayeli was a freshman in high school when she joined the Luxottica Mentoring Program, a CYC workplace mentoring program. Nayeli formed a strong bond with her junior- and senior-year mentor; she even credits her mentor with her own winning of a $4,000 scholarship.
"I never thought I could win it because public speaking is not my forte," she said. "She really was there for me and told me every weekend, 'We have to practice, we have to do this!' and at the end of the day I got the scholarship. And I was really proud because I never knew I could do that."
She graduated third in her high school class and received her Bachelor's degree from Northern Kentucky University, with a major in psychology and a minor in biology. She helped to bring the very first co-ed Latino fraternity to campus, founding NKU's PSI chapter of Alpha Psi Lambda.
Nayeli currently works as a nurse's aide at Children's Hospital and is currently in the the nursing program at University of Cincinnati Blue Ash, with plans to pursue a Master's in Science of Nursing and become a Nurse Practitioner.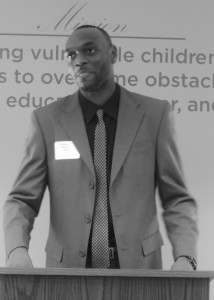 Terence Daniels was an average student at Aiken New Tech High School for most of his high school experience. He received passing grades and stayed out of trouble, but he does not remember being filled with college dreams or lofty goals.
Thankfully, Terence found CYC's Jobs for Cincinnati Graduates (JCG) program at his school, and his true potential was unleashed. "JCG showed me it's not always about school smarts, it's about drive and ambition."  He was elected President of his JCG class, and his speech took first place in city and state competitions. He credits his JCG experience with the success he found in college. 
"The accomplishment I achieved in JCG made me feel like I belonged [in college], like I could do it…I got better grades in college than I ever did in high school. My last few semesters I was getting 3.5 and 3.7 – it wowed me!"
Those scores would be great for any student, but Terence was concurrently serving in the National Guard part-time to pay for college. During one semester he even took a second job working 40 hours a week on third shift.
"I don't remember a lot of the semester," he laughs, "but I wanted to graduate in May so I did it. And I got through it."
 He graduated in May 2015 from Northern Kentucky University with a Bachelor's degree in Public Relations, remains active in the National Guard where he recently achieved the rank of sergeant, and has been working in IT for the company Vantiv for about one year.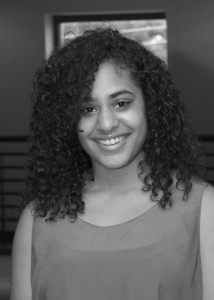 Tajha Leflore's family struggled with homelessness. Her desire to make a better life for her family drove her to succeed in education.
During her senior year of high school, Tajha joined CYC's Jobs for Cincinnati Graduates class. Her Career Specialist Vicky Perkins nurtured Tajha's leadership and innate desire to give back. 
Within the JCG program, Tajha received city and statewide recognition for her public speaking skills, and she graduated as salutatorian of Western Hills University High School. She received a 2015 CYC Outstanding Student Scholarship.
Tajha is attending Ohio University, studying Communications with a Global Leadership Certificate. 
"To have someone tell you that you can succeed, after someone previously told you that you couldn't – that impacted my whole life. CYC is amazing and I will be forever thankful."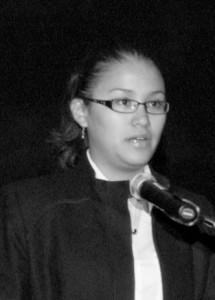 Ana Diaz had her work cut out for her after immigrating to America just before ninth grade. She quickly learned English, but both her parents worked long hours during the week; as the eldest child she was forced to balance schoolwork and caring for her two younger brothers. She found support in her CYC mentor, who herself had balanced college and motherhood. She remembers that, "In a way [my mentor] was like me and understood my position." With her mentor's guidance and support, Ana earned the Luxottica Mentoring Program Scholarship, as well as the 2010 CYC Outstanding Student Scholarship.
Ana graduates from Xavier University this year, and has held an internship with Barnes, Dennig & Co. since August of 2015.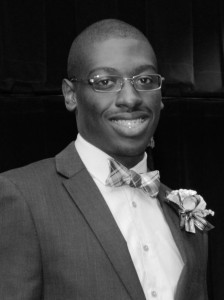 Robert McMurray became the man of the house at three years old, after his dad walked out. He spent years trying to figure out what it meant to be a man, but became disillusioned by the less-than-noble men who sought his mother's attentions. Then, in seventh grade, his mother enrolled him in the CYC mentoring program and he was matched with Kevin, a mentor "who grew to mean more than any relationship with my father ever could." Robert graduated from Oyler High School where he enjoyed sports, playing four years of varsity football, three years of varsity basketball, and participating in track and field as well as baseball. He was named team captain of the football team, and was also actively involved with student government and the Youth Leadership Team at Oyler. Robert was highly involved with his local Boys and Girls Club, and they recognized him as their 2014 Youth of the Year. Robert's academic achievements, perseverance in the face of obstacles, and exhibition of core values earned him the 2014 CYC Outstanding Student Award. He is attending Northern Kentucky University with plans to study criminal justice.
"Thanks to Kevin's presence in my life, I've grown past everything that I saw and experienced in my childhood. CYC calls him my mentor, but I'm proud to be able to call him my father.​"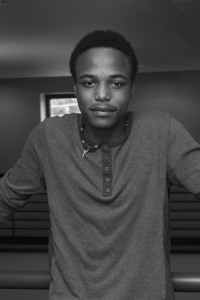 Shannon Chambers has faced many obstacles in his young life. He experienced homelessness and there were even times when he wondered where his next meal would come from. Realizing that he needed help to rise above his circumstances, he moved in with a friend's family his junior year. Having a stable home life allowed him to be more focused on school. Shannon enrolled in Jobs for Cincinnati Graduates (JCG) his senior year at Aiken High School because he knew it was an opportunity that would help him pursue his dream of going to college. Being a part of JCG not only helped him prepare for college, but the experience also turned Shannon into an award-winning public speaker. He placed first in the city-wide competition for public speaking and second in the state. Shannon was one of two recipients of the 2013 CYC Outstanding Student Award. Today, Shannon is on full scholarship at the University of Cincinnati studying business with a concentration in marketing, and a minor in Spanish.
He shares, "To be successful, you have to surround yourself with people who have the same ambitions and dreams that you do."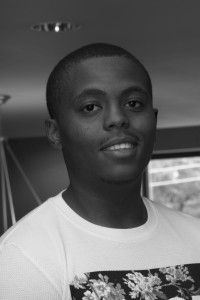 Brandon Prayer was born to a teen-aged mom, lived with his grandparents until the age of 10, and attended seven schools in seven years. Over time, his mother worked her way up to better jobs. He saw first-hand how hard she worked to make a living for her children. Finally, when Brandon's friend Shannon Chambers needed a place to live, they we able to open their home to him. Brandon enrolled in Jobs for Cincinnati Graduates at Aiken High School, and he placed second in the city in the program's public speaking competition. He was a 2013 CYC Outstanding Student Nominee, and a 2013 scholarship recipient from the Anthony Muñoz Foundation. He is currently enrolled at University of Cincinnati.
Brandon reflects, "Everyone is not given equal opportunities. For me, the most successful are those who take advantages of the opportunities that come, and then open the doors."